Stramit® Acoustic Panels are standard profiles incorporating small perforations. When combined with acoustic glasswool they provide effective sound absorption and a pleasing aesthetic finish. Stramit® Acoustic Panels are suitable for applications such as school halls, gymnasiums, terminal buildings, open-sided covered walkways or wherever noise reduction is required and are available in the following Stramit profiles:
Stramit standard perforations cover approximately 11% of the cladding surface. Holes are 2.4mm in diameter and are pitched symmetrically across the sheet. This layout gives the best balance between appearance, ease of installation cladding performance and noise reduction. Should other hole patterns be required please contact your local Stramit branch.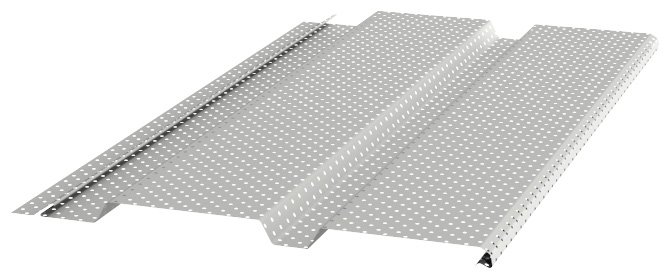 Contact Stramit
Product detail
Availability
ACT
NSW
NT
QLD
SA
TAS
VIC
WA
Product availability is indicative, contact Stramit directly to confirm availability.
Cover Width
Refer to cover width of individual profiles.
Rib Height
Refer to cover width of individual profiles.